Your golden ticket awaits!
Join us in Orlando this October 22-25 for the CD/NLA Show, the premier international event for the chauffeured transportation industry, and experience four extraordinary days at the amazing Gaylord Palms, our all-under-one-roof venue. With concentrated education, unparalleled networking, a dynamic show floor, and unforgettable evening events, this is the ultimate opportunity for operators of all sizes and experience. Whether you seek knowledge to expand your business, connections to fuel your ambitions, or simply a chance to reconnect with affiliates and friends, the CD/NLA Show delivers a remarkable return on your four-day investment. Elevate your enterprise, embrace innovation, and reinvigorate your path to success. Join us this October and seize the moment at the CD/NLA Show!
2020 Vegas Highlights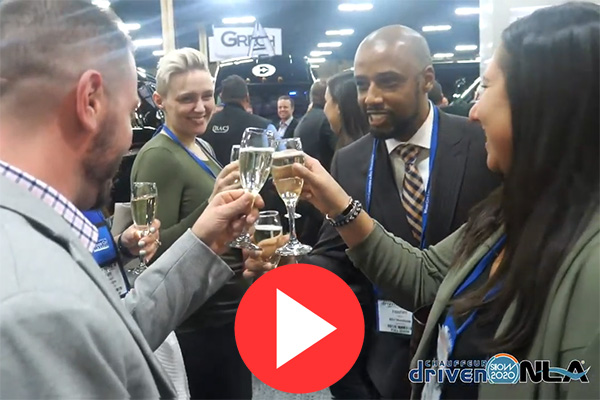 Follow Us On Social!
Testimonials
We Look Forward to Future Events

This was our first experience with the CD Show, and we found it very organized, held at a great location, and offered events that allowed true networking. We look forward to future events.

Garry Moneypenny
TL Worldwide Transportation in Akron, OH

Best Opportunity to Grow Your Business!

This show is the best opportunity to grow your business! Global contacts, excellent guidance, and a show with every product you will even need to be successful. The best education for the money!

Bruce Adcox
AGENDA:USA in Kansas City, MO

First Time at a CD Show

This was my first time at a CD Show, and I enjoyed the show very much. I believe that the partnerships with the NLA and others will increase the amount of attendees at future events, which I will be more than happy to visit.

Dennis Jansen

Dutch Business Limousine B.V. in Amsterdam, Netherlands

Great Event Every Year

The Chauffeur Driven Show is a great event every year. We like the integration with medium-size operators and the new generations of limousine companies.

Gus Ortis
Executive Transportation in Minneapolis, MN

Fantastic Networking Experience

The Chauffeur Driven Show was a fantastic networking experience, and I'm so thankful that I could attend! The Hall of Fame Dinner and Charity Auction was also a night to remember as the Ronald McDonald House is a beautiful charity. I can't wait to see what CD has in store for us next, and I'm sure it will be great!

Wendy Kleefisch
Brevard Executive Limousine in Melbourne, FL

Best Show Ever!

BEST SHOW EVER!

Deanna Gulino
Gem Limousine Worldwide in Woodbridge, NJ

The Show Was Off the Charts!

From a vendor's perspective, this was by far the best show I have ever attended. Great to see so much energy in the room. I was able to have some very honest and insightful conversations with operators who see the value that I can bring to them, even in this difficult market.

Mike Marroccoli
EPIC Insurance Brokers & Consultants

The Knowledge Shared Was Incredible

The networking, panel discussions, seminars, information, and knowledge shared was incredible, relevant, and pertinent. Grant Cardone knocked it out of the park! By far one the best shows—if not the best overall—I have ever been to in at least 15 years. Thank you to the CD team along with the NLA for your incredible effort in putting this event together.

Louis Weiner
Regency Global Transportation Group

Absolutely Amazing!

I have two words to describe 2019 Chauffeur Driven show: ABSOLUTELY AMAZING! Great location, and the content of the sessions and show floor were great.

Ariadna Noches
Mundi Luxury Transportation Network in Miami, FL

Experience Was Excellent

My overall experience was excellent. The classes I attended were what I needed. The hotel property was clean, comfortable, and safe—and the staff was great, too. The two evening parties were great for networking and fun.

Eric Taylor
Executive Transportation in Nashville, TN

First Time Attending a CD Show and I Was Blown Away

This was my first time attending a CD Show and I was blown away. From the networking to the educational courses, overall, it was a great experience. I would surely recommend to other operators!

Aaron Teich
The Driver Provider in Phoenix, AZ

The Best Show This Industry Has Ever Seen

You guys put on the best show this industry has ever seen.

David Seelinger
EmpireCLS Worldwide Chauffeured Services

Networking Opportunities Still Have Me Answering Emails

Chauffeur Driven has created an event that was just as rewarding to the newcomers as it is to the long-time companies that have attended in the past. The networking opportunities that I was able to experience still have me answering emails from prospective affiliates from around the globe!

Joseph Robinson
Best in Chauffeur in Alexandria, VA

Educational Seminars Well Presented and Relevant

The educational seminars I attended were very well presented and very relevant to our business. The show app was also excellent and really helped me plan the programs that I wanted to attend.

Declan O Callaghan
Devine's Worldwide Chauffeur Services in Dublin, Ireland

I Can't Wait Until the Next Show!

The Chauffeur Driven Show is a great event every year. We like the integration with medium-size operators and the new generations of limousine companies.

David Saunders
Arrow Prestige Limousine & Coach